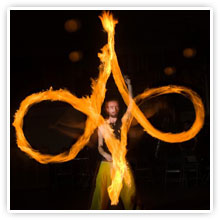 G is a world renowned poi master and poi teacher, and has worked a lot with Nick Woolsey from playpoi.com
He has studied Poi as a movement art since 2003, and possesses a unique ability to apply his knowledge and understanding of object manipulation to a variety of arts such as staff, contact juggling, whips and an array of juggling props, some not quite intended for this purpose.
G has traveled the globe since 2007 to take his knowledge to new communities and in addition learn and develop new techniques and concepts for spinning and teaching poi. His vast skill set and repitoire of mezmerizing performances have earned G his international acclaim.
G has been traveling around South Africa for the last couple of months, and has been doing workshops while doing the tourist thing. I attended 2 of his workshops in Cape Town, and will hopefully be attending another one when he returns to Cape Town in a couple of weeks.
At the moment you can get information on G's workshops in SA from the Fire Desire events page on Facebook https://www.facebook.com/events/472684532744977/
The Cape Town event page on Facebook for G's next workshops in Bergvliet and Stellenboshc is: https://www.facebook.com/events/467146476629592/?context=create
Cape Town on Saturday 21st July
Venue TBC, but will probably be at the Bergvliet Congregational Church, Hiddingh Road, Bergvliet.
Stellenbosch on Sunday 22nd July
Venue TBC, but is going to be in a farm barn about 10 mins outside of Stellenbosch.
The poi workshops are returning to the Western Cape. If you didn't have a chance to attend the first time round then your luck is in.
There will be a beginner and an intermediate class in Cape Town which will be repeated in Stellenbosch (more details to come soon).
Each workshop will run for two hours.
Start times will be confirmed soon but will probably be beginner class from 14:00 – 16:00, and intermediate class from 16:30 – 18:30.
Workshop Prices
R200 for beginners
R250 for Intermediate
Get R50 of your price for every friend that you bring.